* Reply to this post with ICON ME! and I will pick five of your icons.
* Make a post (including this info) and talk about the icons I chose.
* Other people can then comment to you and make their own posts.
* This will create a never ending cycle of icon glee


luxuria_oceanus selected:



by
dana_cz
OMG ARE YOU KIDDING ME?! MY COMEDY OTP PORTRAYING MY SHAKESPEARE OTP?! COULD YOU TWO BE MORE PERFECT?! NO I DO NOT SHIP THEM IN RL! HDU.




by
phuck
This is one of those funny cos it's true things... >_____> JOANNE I've been doing that a lot lately. But if you think about it, she kind of kills all the canon H/Hr shippers. Voldy, Dumbley, Hedwig, Fred, Sirius... It hurts. I kind of hate you Joanne BUTILOVEYOUSOMUCHTOO! I feel like a victim of fandom abuse. I keep coming back for more! WHY DO I LOVE IT SO MUCH?! WHYYYYYYYYYYYYYY?! BRB, FOREVER CRYING...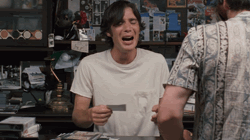 by
lidi
funny man saying funny lines in an otherwise not funny scene making the best bloopers ever? yes, please!




by
artplethora
the last season of goodness. the brilliance before my love died! the season of MARK & CHELSEA! 12 FEET OF DANCE! TWITCH & KHERRINGTON! COURTNEY & GEV! KATEE & JOSHUA! JUST WATCH.






by
knittinggoddess
i was all of eleven or something when i saw this for the first time on teevee going: THE MILLENIUM FALCON NEVER DID THAT! OMG! SQUEE! COOLNESS! *JUMP UP & DOWN* funny snarky trek icon that encapsulates mah childhood wonder and awe? yes, please. i also have one that says 'assembly required'.