Just one short one this time cos I know youse alls are in FINALS HELL WEEK and need to like, fucking study or something. Introspective tiems with a side order of some heavy existentialism taking place after OotP pre-HBP.
Heaven
by MattUF1
Can we get a round of applause for this? All I can say is: WORD. And that I am grateful for the R/Hr's I
do
know cos they are actually awesomesauce and stay away from this kind of wank. LOVE YOU GUYSES.
"I think it is really strange how so many people are making the same arguments and not bothering to provide a bit of evidence behind it. "Harry and Hermione are too serious." You do realize they are fighting a war and are prepared for the fact that they may die? Yeah, I don't understand why they're so gloomy either (that's sarcasm, by the way, for those who take things so damn literally). Everyone says how much fun Ron and Hermione have together… what is ONE scene in the book that this happened? Hm? Just because Ron has made a few jokes in the books and movies doesn't mean crap for this argument, because Harry's made one or two here and there too. He hasn't been serious the entire bloody series. So that completely debunks THAT theory.
What was the other argument that people won't shut up about? The brother-sister thing? If that's truly the best argument you can come up with, I can apply it right back to Ron and Hermione, which fits even better! I have never had Harry and Hermione's relationship with any of my siblings. But, believe it or not, I DO fight and bicker like a 5 year old with them pretty often… GASP! That must mean we are destined to be together! Seriously? Provide evidence and a decent argument than "na, na, na, na, na, na!" when you want to make a point that's worth considering.
The thing that ticks me off most though is people's inability to acknowledge the opposing side's points logically and respectfully. The people who are so stubborn and biased that they look at Harry/Hermione's dance scene and call it awkward, when it was really just incredibly well done and undeniably sweet (whether you look at it from a romantic or friendship point of view, it was still sweet!). I can acknowledge that the piano scene and a few other scenes between Ron/Hermione were quite cute - I don't jump out of my skin to call it lousy and awkward (though I can't say the same for Harry and Ginny's scene… you do realize how incredibly cheesy and bad that was, don't you? She had to walk down from her room with her dress unzipped, just to find Harry to zip it up. Desperate much?).
Harmony shippers aren't "delusional," we just objectively look at Harry and Hermione's relationship versus Ron and Hermione's (like this article did) and would like to make the point that we personally hold the opinion that Harry and Hermione would have made a better couple. I don't deny that there was the opposites-attract, I-hate-you-but-really-love-you thing going for Hermione and Ron (JKR obviously thought so), but I hold the belief that Harry/Hermione's friendship had more potential to grow into something more meaningful and beautiful and lasting (this article sums it up pretty well) than Hermione and Ron's (all of you platonic-pushers do realize that Hermione and Ron were platonic too, right? They didn't jump into the sack when they were 11). Disagree, and think Ron and Hermione's relationship has more depth? Reply, and give some evidence, because I have yet to see a logical argument backed by anything."
like, really JK? REALLY?!
"Now the fact is that Hermione shares moments with Harry that Ron will never be able to participate in. He walked out. She shared something very intense with Harry. So I think it could have gone that way." - JK Rowling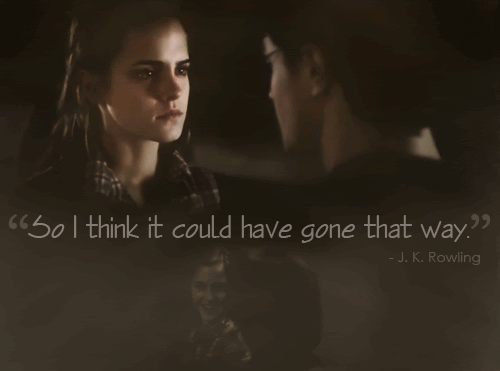 30 Days of Harry Potter
Day 1
Day 2
Day 3
Day 4
Day 5
Day 6
Day 7
Day 8
Day 9
Day 10
Day 11
12. Favorite movie scene(s)
The whole of PoA is my fave, obvs. But this one made me roflmao and then cry:
This in CoS. Wizard's first fail:
This in CoS: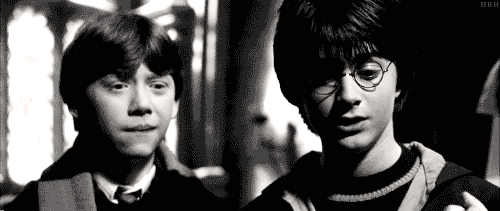 This in GoF:
The passing of the map:
Gred and Forge wreaking havoc with their stick-it-to-da-man-diosis: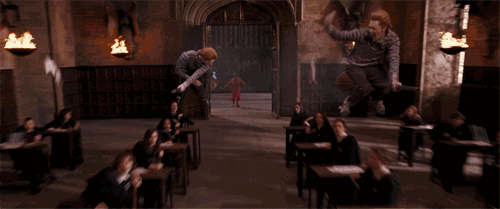 The 'W' is for WIN:
Ron hating spiders and longing for butterflys. Oh, RON: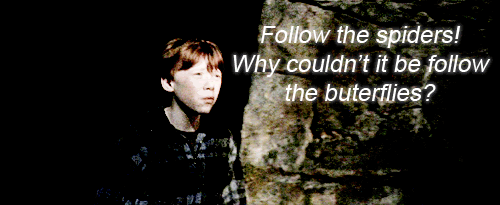 Boys being boys: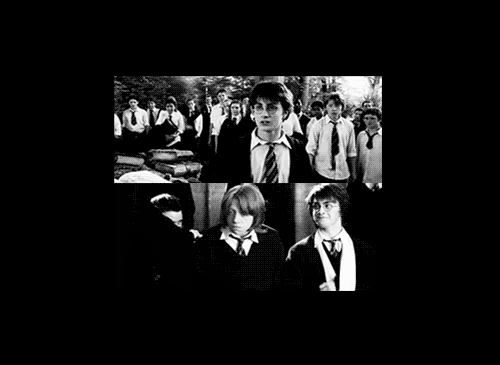 Dobby likes Luna:
Dear person whoever made this gif,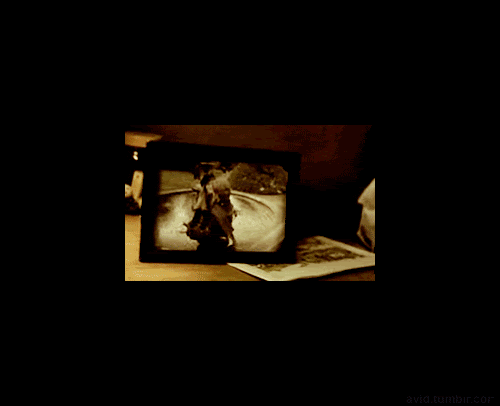 THANK YOU
Oh come on don't act all fucking surprised. What really gets me is the fact that he's kinda totally INHALING HER. OMG WHUT?! AM I THE ONLY ONE SEEING THIS? SOMEBODY NEEDS TO WRITE THIS BOY'S MIND AT THIS MOMENT.
OMG AND THIS: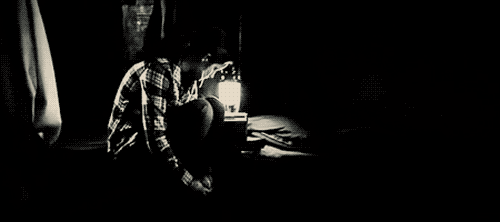 HOLY FUCKING SHIT I FUCKING DIED. WTF IS THIS AWESOMERY?!?! WHAT IS THIS LOOK?! WHAT IS IT DAN?! TELL MEEEEEEEEEE!!! OMG! *DEAD* AND THEN THE PART THAT
REALLY
GETS ME IS WHEN HE TAKES THE FUCKING LOCKET OFF OF HER. LIKE, THIS MOMENT WE'RE ABOUT TO HAVE IS ONLY FOR YOU. AND JUST. DAMN. IT KILLS ME. THESE FUCKING KIIIIIIIIIIIIIIIIIIDS. THIS FUCKING FANDOM. FUCK.
That is all.
13. Least favorite character(s)
14. Moments in the books/movies that made you cry
15. Whatever tickles your fancy
16. How have you participated in the fandom over the years?
17. Your favorite celebs from the movies or fandom
18. If you could change one thing about canon, what would it be?
19. A favorite fanart
20. A favorite quote
21. How has the HP fandom connected you to other fandoms, interests, or people?
22. Your favorite villain
23. Share some HP icons
24. Rant about Steve Kloves something
25. Song that reminds you of HP
26. What aspect of the books has been best translated to film?
27. What aspect of the books has been most poorly translated to film?
28. Hogwarts subject you would most like to take
29. Favorite location
30. Whatever tickles your fancy
Current Mood:
hungry
Current Music: Hospital Beds ~ Florence and the Machine