I WANNA GO TO DRAGONCON!!!!
The likes of Nathan Fillion, Alan FUCKING Tudyk. Torri Higginson, RAINBOW SUN FRANCKS!
JAMES. MARSTERS.
Guh. *melts* Oh god. It's the head tilt. The dreamy eyes. The never ending cheekbones. *sigh*
Virginia FUCKING Hey.
Aaron Douglas. E!J!O! MAAAAAAARRRRRRRRRYYYYYYYYYMMMMMEEEEEEE! *fangirls* TAAAAAAAAAHHHHHHHHMMMMMMOOOOOOOHHHHHHHHH
HHHH!
Helo, my first BSG love, how art thee? CHEEKBONES!!!! *wants*
SCOTT ALLIE!!! EEEEEEE!!! David MASTER Mack! OMG! LOVE LOVE LOVE LOVE. *points flaily at icon usage* Mark Texiera. *goo* He's like Luis Royo junior. I heart Junior.
And dudes, Captain Benjamin Sisko hisself, Avery Brooks. FOOK ME! I'm SO going next year.
I have a serious case of the gimme gimmes. What would Papa Berenstein say about that?
In other not-four-year-old-behaviour: Remember the cuteness of Oz/Willow? *sigh*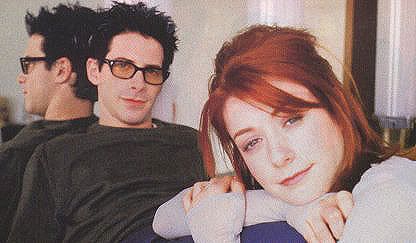 Juno + Willow/Oz = Chocolate & Strawberries
Current Mood:

jealous
Current Music: Big Time Sensuality ~ Bjork